331 Seaview Ave
(since 1992)
718 667-7741
Medical Assistant
Fall is here...time to start a new career
Oct 10th, 2023
Vouchers accepted for Workforce
One, G I Bill, Acces-VR

YOU MAY BE ELIGIBLE

JOB PLACEMENT ASSISTANCE
MEDICAL ASSISTANT PROGRAM
open enrollments

Join our next module now
on going registration

CALL FOR UPDATES

718 667-7741

PROMOTION $7500
5 payments of $1500/month

THIS IS THE FULL MEDICAL ASSISTANT CLASS
ADMINISTRATIVE OFFICE AND CLINICAL PROCEDURES
(This is WHO the Doctors and Hospitals want to hire)

This is the NYS Education Dept's FULL
MEDICAL ASSISTANT PROGRAM
MEDICAL PROCEDURES, EKG, PHLEBOTOMY, MEDICAL RECORDS, MEDICAL BILLING

THERE IS NO NYS BOARD EXAMINATION

WE WILL PREPARE YOU FOR NATIONAL CERTIFICATION NHA

Don't be fooled by cheaper prices, fewer hours or inexperienced instructors.
This is the school that people get hired out of.
Again this is the FULL MEDICAL ASSISTANT PROGRAM

Welcome To The New Millennium
Training Center
This is what you get:
4 Months in class / 6 - 8 weeks in Dr's office
This is the full 600 hr NYSED Approved Program
Learn phlebotomy, ekg, medical procedures, medical records, medical billing, real office applications.
Get real one on one instruction during critiical skills training
Instruction by veteran New York State Ed Dept Licensed Medical Assistant Teacher with over 20 years of experience. Guaranteed Supervised Externships within our large network of Staten Island's top physicians.
Doctors call us for MAs to work

What will I learn during The New Millennium Training Center Medical Assistant course ?

Taking medical histories,Recording Vital Signs, Temperature, Pulse, Respirations, Blood Pressure, Explaining Treatment Procedures to patrients
Preparing paients for examinations, Assisting the Physician during examinations, and procedures, collect and prepare laboratory specimens,
Perform basic laboratory tests on premises, dispose of contaminated supplies, sterilize medical instruments, instruct patient about medication and special diets, prepare and administer medication as directed by the physician, authorize drug refills as directed, telephone prescriptions to a pharmacy, draw blood, proper use of multiple phlebotomy needles, vacutainers, tube holders and recording procedures, prepare patients for x-rays, administer electocardiagrams, remove sutures, change dressings, arrange examining room instruments and equipment, purchase and maintain suppliies and equipment, keep waiting rooms and examining rooms neat and clean, allergy skin tests, processing insurance claims, operating a computerized patient management system, scheduling appointments, managing office emergencies, emergency first aid.


PROMOTIONAL PRICE......$ 7500
Registration Prices are subject to change
"job placement assistance"

That's five payments of $1500/per month or $375/week

You can't find a faster, more reputable medical assisstant program for a better price anywhere in NYC
OTHERS SCHOOLS ARE EASILY 2 - 4 TIMES AS MUCH and more

NATIONAL HEALTHCAREER ASSOCIATION
National Certification

PERSONAL LOANS MAY BE AVAILABLE FOR MED ASSIST COURSE

The United States Bureau of Labor Statistics, or BLS, ranks New York as #4 in the list of top states for medical assistant employment, with approximately 82,450 medical assistants working in the state. In addition, the BLS reports that the average starting salary for a New York medical assistant is $42,600 and higher, which places the state in the highest range in the country, and well above the national average. Nationally Certified and Hospital Medical Assistants may earn even more with benefits.

MORE DOCTORS' OFFICES CONTACT THE SCHOOL FOR NEW HIRES NOW MORE THAN EVER BEFORE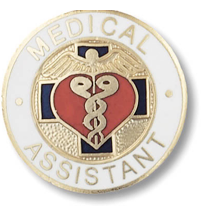 " We are the school where people get hired from "


"LOOK THE LOOK, TALK THE TALK AND WALK THE WALK

Its not just a J O B..................................." Its a C A R E E R "
NYC has well over 1000's of facilities and offices where there is work 24/7. There isn't any reason why a motivated certificate holder should not be able to get a job. GET IN...GET TRAINED...GET OUT...GET WORKING F A S T
WORKFORCE ONE VOUCHERS ACCEPTED FOR CNA AND MEDICAL ASSISTANT



Approved by the Veterans Administration for Post 9 / 11 G I Bill®



Approved for Benefits by the State Approving Agency
Eligible candidates may receive vouchers
ATTENTION VETERANS (and your family members)
MORE HOSPITALS ARE STAFFED BY MEDICAL ASSISTANTS THAN EVER BEFORE

Every Month We Post New Job Offerings from Doctor's Offices and Hospitals That Contact Our School
We are very successful with Job Placement Assistance
Online: Pre-Registration Form
Email us: tnmtc@outlook.com
Call us: (718) 667-7741
In today's volatile job market, it's more important than ever to have an education. Skilled jobs are more secure, offer higher pay and usually come with better benefits. Thankfully, you don't have to spend four years earning a bachelor's degree to start such a career. With the right certificate program, you can be trained in as little as six months and still earn a college income!
This is a FAST TRACKED program of about 20 weeks in the classroom and then you're actually assisting physicians within their own office and we can't get them enough Medical Assistants. The demand is growing all of the time.The demand for Medical Assistants is exploding. According to the U.S. Dept. of Labor, the Medical Assistant field will create more new job opportunities than any other career through the next decade. Doctors are competing with each other for qualified candidates. Fortunately, our school has more job postings than people to send to them. That's a reputation built on years of good relationships and quality training.
There is a special kind of Professional Assistant required for the healthcare field, one that not only has office skills, but also a clinical understanding of the medical field. The New Millennium Training Center has created The Medical Assistant Program that will give the knowledge and hands-on training you need to be successful in this field. We will prepare you for a career that is not only financially rewarding but also personally rewarding, helping people as part of a medical team. Healthcare is an exciting, dynamic field, filled with motivated people. There is a way to enjoy many of the career benefits of medical training without the cost and commitment that go along with attending a medical school. As a Medical Assistant, you'll have your finger on the pulse of the medical field. You'll interact directly with both patients and caregivers. You'll help operate and maintain complex diagnostic equipment and also have ample opportunity for growth and advancement. All it takes is the right training and dedication. Because a career as a Medical Assistant comes with great rewards, it also comes with great responsibility. Even though you won't be making diagnoses or prescribing medication, you are the physicians' first line of intelligence and information gathering when it comes to patients. Doctors will be looking to you as the first person in many cases, to interact with a patient for a carefully thought out assessment that will allow them to make the best possible use of their time. You will constantly be learning along with the practice about diagnoses, equipment and office management. In short, what it takes to run a medical practice or clinic.
The rewards for a commitment of this magnitude are potentially enormous. You'll be well compensated and in demand. You can choose what part of the country you want to live in and be confident that you will always find medical facilities anywhere you go.

Training at The New Millennium Training Center can make you feel good all over. We help our students aquire the skills they need to succeed in the medical field. We have dedicated teaching professionals and we've developed a comprehensive training program that is relatively easy to learn and uses that knowledge during your clinical internship experience.

Remember its the school that people get hired out of ....that counts !!
Take advantage of our next session and pre-enroll now!

"SAVE MONEY... ENROLL N O W !!"


Can you see yourself being part of the lucrative Medical Team somewhere? No matter where you go or move to, you'll always have this Certificate of Medical Assisting. Once you get started, career annual salaries and bonuses usually start around 40K-45K and go up higher periodically, usually with a benefit package.
The Mission of the Medical Assisting Program has as its focus, the education of medical assistants who provide services as members of the health care delivery system caring for the sick. It provides an educationally sound, stable environment where a diverse student population has the freedom to learn and grow intellectually as well as develop competencies in administrative and clinical skills. Faculty members are qualified and caring teachers and medical assistant educators who are dedicated to excellence in medical assisting education. The Program in Medical Assisting establishes a technical educational foundation upon which students of medical assisting may continue to build their professional careers.`
Some of the many benefits of studying with The New Millennium Training Center include:
Becoming a Medical Assistant in less than six months!
No High School Diploma or GED ? 
We will give you the Ability-to-Benefit Test.

We offer job placement assistance!

Take your certification exam with the help of the school!

WORKFORCE 1 and VESID, ACCES-VR, OMH, POST 9/11 G I Bill, HRA Vouchers are accepted. We also have payment plans available. Personal loans are available at any bank with the right credit. Anyone can do this.....

Externship at various doctors offices, hospitals, and medical facilities!




We will assist you in preparation for your written Medical Assistant Examination.

Safe and secure location with video surveliance in high traffic area

Ample eateries surrounding the school in a well-lit area.

Extremely convenient location to all forms of public transportation, making it accessible from Staten Island, Brooklyn, Manhattan and New Jersey. Students come from all over the city and New Jersey on a daily basis.

Work in a professional setting!
How do I get started ?

All applicants for the Medical Assistant program must be 17 years or older.
High School Diploma or G.E.D. from any country or its equivalent or education of higher order or Ability to Benefit Exam. in the absence of a high school diploma.
The school maintains a staff of representatives responsible for admissions.These representatives are New York State Education Department Licensed School Agents. Prospective students are required to schedule an interview at The New Millennium Training Center with the admission personnel. At this time the representative will gladly explain the school's program in detail.
Students must demonstrate a willingness to attend classes on a regular basis and take an active role in the overall program.
What will I learn during The New Millennium Training Center Medical Assistant course ?
As a Medical Assistant, you will be a vital part of a medical office's day-to-day operations. You'll get the medical knowledge in such skills as medical procedures, medical billing, medical records, phlebotomy, and electrocardiogram as well as other typical office skills such as patient data entry and office systems applications. With the help from The New Millennium Training Center you will become the Medical Assistant that doctor's rely on to keep their business running smoothly and build their financial bottom line.
This Medical Assistant program consists of 600 hours of training in Medical Assistant curriculum. Through classroom and clinical settings, both theory and practical knowledge is taught in designated aspects of being a Medical Assistant. Some of the skills that come with the training from The New Millennium Training Center include:
Taking medical histories

Recording vital signs

Explaining treatment procedures to patients

Preparing patients for examination

Assisting the physician during examination

Collect and prepare laboratory specimen

Perform basic laboratory tests on the premises

Dispose of contaminated supplies

Sterilize medical instruments

Instruct patients about medications and special diets

Prepare and administer medication as directed by a physician

Authorize drug refills as directed

Telephone prescriptions to a pharmacy

Draw blood

Prepare patients for x-rays

Take electrocardiograms

Remove sutures

Change dressings

Arrange examining room instruments and equipment

Purchase and maintain supplies and equipment

Keep waiting and examining rooms neat and clean

Allergy skin tests

Processing insurance claims

Operating a computerized patient management system

Scheduling appointments

Managing office emergencies

Emergency first aid
Medical Assistants perform both administrative and clinical tasks in a medical setting. Medical ​Assistants usually work in physicians or the offices of other medical professionals. Work duties may vary based on the physician's specialty, location, and size.
Medical Assistant job responsibilities may include the following:
Administrative: answering telephones, greeting patients, scheduling appointments, entering and updating patient record information, and arranging for hospital and laboratory testing for patients.
Clinical: collecting laboratory specimens, preparing patients for exams, taking and recording vital signs, assisting physicians in minor office procedures, submitting prescriptions to the pharmacy, and keeping waiting and exam rooms neat and clean.
Other: Medical Assistants may also perform tasks for optometrists, podiatrists, dentists, and other specialists.
Salary Expectations
The salary for a Medical Assistant varies based on a number of factors. The biggest factor is the type of facility or organization. Medical Assistants may work in one of the following capacities:
Hospitals
Physician Offices
Outpatient Centers
Home Health Services
Skilled Nursing Facilities
The next factor that impacts salary is the level of responsibility which often correlates to the job title.