OUR STAFF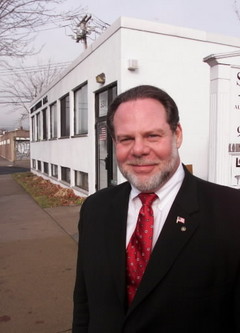 NYS LICENSED EDUCATIONAL DIRECTOR: Mr. Art Lauter (known by 1000's of students over 27 years, as Mr.Art), formerly the owner of a Nationally JACHO Accredited Home Health Care Agency, graduated Magna Cum Laude, City University of New York with advanced degrees in Pyschology and Education. He pursued a graduate degree and received his Masters of Science in Special Education. A Graduate program in Guidance and Counseling at Long Island University and Labor Relations Administration and Supervision from Cornell University. A retired New York State Licensed School Teacher in 1992 coupled with a retirement from the United States Military as a Combat Medic and Operating Room Specialist with a MASH Unit and a Presidential Commission as an Administrative Medical Officer, provides The New Millennium Training Center with a long history of top, professional management of school operations.
PROGRAM COORDINATOR: Marie Minacapilli, Registered Nurse, New York State Licensed Teacher, has been at the core of the school's operation for many years with literally 1000's of students to her credit. Marie is probably one of the best Nurse Instructors in the industry and is an integral part of the success story behind The New Millennium Training Center.
Kelly Morris, CMA, RMA. Medical Assistant Instructor. New York State Licensed Teacher. Kelly is a wonderful personality and impeccable instructor. She exemplifies total professionalism in all of the applied areas of medical assisting. With years of experience and so many students under her belt, teaching for her is a fun occupation and her students have never done anything less than performed at the top of their class. She creates an instant comfort zone for our MA students as they enter into the realm of the more advanced and technologically equipped MA apprentice. Kelly is both a teacher and your personal coach as you learn phlebotomy, electrocardiograph, administrative office skills and medical procedures. Kelly's guidance has been responsible for the successful outcomes of our well known Full Medical Assistant classes.
ADMINISTRATOR: Michelle Lauter, BS Economics and Finance, State University , Albany, New York. School Administrator, Operations Coordinator, Licensed New York State Education Department School Agent . Michelle is the friendly voice heard by thousands over the years on our voicemail alerts and announcements. She is a Marketing and Advertising Specialist with a keen eye for student promotions that have saved our student population valuable dollars over the years. Spending a great deal of her routine day involved with scheduling, student contacts and planning the day to day practices of ongoing school operations, Michelle is the go to person and trouble shooter without whom, the success of the school would wither.

AFFILIATIONS AND ASSOCIATIONS

Silverlake Specialized Care Center, has been our affiliate for many years as an excellent clinical teaching facility where literally thousands of CNAs have demonstrated proficiency in skill areas under the combined efforts of ours and their clinical nursing staff.

Honorable Mention: Staten Island University Hospital, Eger Nursing Home, Victory Memorial Hospital and Holy Family Nursing Home as our previous clinical affiliates that for many years served as clinical training to literally thousands of students during their clinical externships.

Honorable Mention: We gratefully acknowledge the Medical Doctors that have been The New Millennium Training Center's affiliates for our Full Medical Assistant Program. It is with their continued respect and faith in our professional training that our students have excelled in their practice and employment. Together we get it done !


Paul Kitsis MD
Frank Martingano MD
Wissam Hoyek MD
Ila Sukhadia MD
Chitoor Govindaraj MD
Wojciech Skrzypiec MD
Azher Siddiqi MD
Benjamin Kollori MD
Rama Reddy MD
Louis Besser MD
Seth Brum MD
Giovannie Jean-Baptist MD
Natalya Chalik MD
Paul Gessman MD
Donna Seminara MD
Shye Wortman MD
Kingsbrook Medical Center
Staten Island Physicians Group
Melvin Koplow MD
Richard Lucente MD
Luigi Parisi MD
Bart Peloro MD
Louis Besser MD
Ram Reddy MD
James Lamia MD
Ernest Visconti MD
John Zafaranloo MD
Samual A Leuzzi MD
Tauqeer Ahmad MD
Joel Stakopsky MD

Phillip Torado MD

Maria Fodera MD Thomasina Fodera MD Coomer Cynara MD Alvin Holcomb MD Thomas Kahadia MD Beacon Health Bay Medical

We update our affiliate list semi-annually and more recent affiliates may not appear when you view this page.
Respect to off Island Hospitals and Medical Practices. TNMTC gratefully acknowledges the cooperative affiliations and contracts with Externship sites off of Staten Island.

PAST STAFF .......HONORABLE MENTION

Dr. John Johnson, Medical Doctor. Dr. Johnson has been both an instructor and a key component to The New Millennium Training Center for several years. His unique desire to want to help train students has yielded a large number of industry dedicated personnel that were his students.

Marie Raia RN MSN: An excellent RN instuctor that has strong ties within the Staten Island infrastructure and compliments our Professional Staff with her expertise in clinical training. Students always are assured positive outcomes after being under Marie Raia's umbrella. (retired)

Lorraine Mercado, RN, joined our teaching staff in early 2010 to augment our Certified Nursing Assistant teaching staff.
Her warm nature shows her natural calling to be a nurse. Teaching nursing assistants seems to be another natural calling for Lorraine because she is a wonderful NYS Licensed Trade School Teacher. (retired)

Margaret Sheehy, RN, joined our teaching staff in early 2010 and has becone a well respected addition to The New Millennium's professional teaching staff. Margaret is a fun instructor and her students enjoy their experiences with her both in the classroom and in the residential healthcare facility.

ASSOCIATE: Dr. H Aswani, Medical Doctor. Internal medicine practitioner and friend of The New Millennium Training Center for many years is both a trusted advisor and a wonderful resource for our student population when it comes to preparation of medical examinations and referrals.