331 Seaview Ave
(SINCE 1992)
718 667-7741
NEWS
MEDICAL ASSISTANT CLASSES
Immediate Job Placement Assistance
Oct 9th, 2023
REGISTER 2 WEEKS EARLY
Fall is here...time to start a new career
Immediate job placement assistance

" We are the school where people get hired from "
In today's volatile job market, it's more important than ever to have an education. Skilled jobs are more secure, offer higher pay and usually come with better benefits. Thankfully, you don't have to spend two to four years earning an associate's or bachelor's degree to start such a career while at the same time accumulating student loan debt. With the right certificate program, you can be trained in as little as one month ! You will be recognized because you have nursing and medical skills and there is a job market out there that is only growing bigger each year and this is coming from the Labor Dept. and numerous newspaper and professional journal articles that continuously document this fact. Make money now !!

YOU MAY BE ELIGIBLE FOR NO COST TRAINING

WORKFORCE ONE VOUCHERS ACCEPTED FOR CNA AND MEDICAL ASSISTANT

ACCES - VR VESID VOUCHERS ACCEPTED

F.E.G.S, GRANTS ASSOCIATES, D B GRANTS, HRA, FED CAP
WORKFORCE ONE, G I BILL, VETERANS ADMINISTRATION, JEWISH BOARD OF FAMILY SERVICES, SEAMENS SOCIETY, UNITED ACTIVITIES, NY FOUNDLING,

ATTENTION VETERANS (and your family members)

Approved by Veterans Administration
Post 9/11 G I Bill®
Approved for Benefits by the New York State
Division of Veterans Affairs
POST 9 /11 G I BILL VETS & ELIGIBLE FAMILY MEMBERS.......

OUR VETS ARE WORKING !!!!!!

Eligible candidates may receive Vouchers

PERSONAL LOANS MAY BE AVAILABLE FOR MED ASSIST COURSE

NEWSLETTER
We are proud to announce that for nearly 30 years we have trained, graduated and helped place NEARLY10,000 students. That's a remarkable track record and a testament to the dedication and high morale of our students and staff combined.
Be proud to say that you are a Certified Medical Assistant and can work anywhere

NATIONALLY ACCREDITED CERTIFICATIONS BY N H A
NATIONAL HEALTH CAREERS ASSOCIATION

Its not just a J O B..................................Its a C A R E E R

Medical Assistant Course
actual pin given to each graduate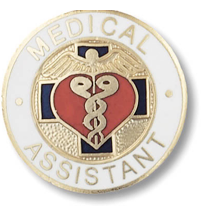 ON GOING REGISTRATION EVERY MONTH

MEDICAL ASSISTANT PROGRAM
Open Enrollment
Immediate Job Placement Assistance

Join our next module now
Oct 9th, 2023
Register 2 weeks early

CALL FOR UPDATES
718 667-7741
This is the NYS Education Dept's FULL
MEDICAL ASSISTANT PROGRAM
MEDICAL PROCEDURES, EKG, PHLEBOTOMY, MEDICAL RECORDS, MEDICAL BILLING

Our Full Medical Assistant class has new modules staring every month. It seems that folks just like it better when they can take a short class and start working soon thereafter. 20 weeks in the classroom and then the externship at the Dr's office. Our class is about 24 to 28 weeks long (depending on the amount of time spent during the internships) including the guaranteed internship at a MD's office. Remember....It's the school that you get hired out of that counts......

FACT : MDs hire staff from a school that they trust !!!!

Medical Practices are under pressure from the health department to employ qualified medical assistants that have real credentials if they are going to have clinical patient contact. Physicians who in the past employed non licensed or certified MAs, are making the transition to avoid legal liabilities
Can you see yourself working in a medical practice, wearing a stethoscope around your neck, holding a patient chart and doing preliminary exams on the patients before the Doctor enters the examining room ? Screening patients for the Doctor ? (TAKING VITAL SIGNS, REVIEWING MEDICATIONS, EKG, PHLEBOTOMY, HISTORY, BILLING AND CODING, SCHEDULING, EXAM PREPS etc..)
That's professional !!

(Who wants classes that run 9 - 12 months and even longer anyhow ??)
Plus we're a fraction of the price….with time payments too.

Why put yourself in debt with student loans for years.

Special Notice: Personal Training Loans are available if you want to go that way. You can fill out the application at the office and fax it in. We'll help if you run into trouble with it. Good thing about those loans is, you can make a course like this affordable and then some. They have great repayment terms and give you years to pay off the loan at a fair interest rate. So if you can afford a minimal repayment per month of around $125, you can take this class.
Approximately 80% plus of our graduate Full Medical Assistants have been placed by the school to date. The passing rate of our last National Competency Exam was 100%. Can you imagine what it means to be able to accomplish such an awesome goal of enrolling in, graduating from and passing the national certification exam, all in under six months ? Basically a fraction of the time and a fraction of the price of more costly schools, with the same end result.
Its not just a J O B...................................Its a C A R E E R

Certified Nursing Aide/Nursing Assistant


actual pin given to each graduate

NEXT CLASS DATES
REGISTER EARLY Oct 9th, 2023

CNAs in New York earn an average of $45,000 plus (about $800 +/per wk) wages have been shooting up and some new CNAs start at $21.50 +/hr, Plus your fair share of overtime and double shifts, with benefits and your fair share of holiday time too. Being that this is a nice salary for an entry level nursing position, it is recommended for those that would like to work in the medical field but do not want to do two to four or more years of nursing education at a university.
In order to work as a CNA you must be certified. To become certified, the first step is to enroll to take the CNA classes.

Thinking about becoming a Registered Nurse ??
Not sure if you are ready to commit to 2 to 4 years of Nursing School yet ?
Why not work as a Certified Nursing Assistant first and see if Nursing is the career path for you ??
Become a CNA in just 4 short weeks at The New Millennium Training Center

Register in enough time to get your seat. First come first served. Voucher students need time to be processed. Don't delay. Career Advisers, Case Workers, Counselors, and others are asked to please process their potential students with enough time so as not to let the student's window of opportunity pass and they'll have to wait another month before they can start their training….PLEASE ….
The New Millennium Training Center has assisted well over 250 students and graduates last year, with resume preparation and job searches. We are very proud of our efforts and of the positive outcomes, as well. The number of agencies that have referred students to our school have been able to share in our success by sharing those positive outcomes.
Placement Activity is pretty high these days, especially with CNAs. The Health Care industry is perhaps the largest employer on Staten Island or even in all of New York City, for that matter. There are literally thousands of healthcare jobs available 24/7. In Staten Island Hospital alone, there are over 6500 hundred people working there daily. So it goes in healthcare facilities, large and small all throughout the metropolitan area. Did you know that in Brooklyn alone, there are well over 400 facilities, three shifts per day ? There are always people on leave, retiring, maternity, workers comp, disability, etc. Part Time of Full Time....... jobs are available. The New Millennium has been responsible for literally thousands of people now working and that's a fact !! You could speak to hundreds of facilitiies that have hired our graduates and thousands of those graduates themselves.
We are a T E A M.
We are well Trained...well Versed in our skills....well respected by the Healthcare Facilities and graduates can get their jobs on their own if they choose…..but if someone needs a little helping hand to get a foot in the door....we're just a phone call away. Most of the time we can help place you almost immediately. Within the previous years the number of facilities in the NYC metro area that have contacted us to send them new CNA's has increased tremendously. Our training is just plain good and our students get plenty of hands on training so they know what to do on the job the very first day and the healthcare facilities really appreciate that they do.
NYSDOH State Board Exams can be scheduled and taken within days of the class ending. You get your results sent in an email in 5 working days..possibly sooner online...... Nobody helps you do it faster than we do !!!!

---
Healthy Tips
My Personal Experience:

For any colds..I take about 6,000 mg of Vit C (plenty of water) and 200mg of Zinc along with the Simply Saline nasal spray to kill the cold virus. It works every time in about a day.

Drink alot of fluids each day (at least 2 quarts or more) and you will find that all your troubles start to dissapear,

*good urine flow
*good bowl movements
*fewer headaches
*joint pain is lessened
*fresher breath
*less body oder
*fewer gastric problems
*weight loss
*better skin tone

As we grow older we get into the habit of reducing the amount of fluid intake each day and it becomes cummulative and then the body learns to adapt to and run on whatever our intake levels are. Our body learns to function with less daily fluids and that's when the problems start....not right away but over time..So drink up !!!
Check This Out .... W O W !!!!!
News
Make this Season a Reason for Happy Feet

Tips for a pain-free summer – from your ankles to your toes.
Many of us are on our feet throughout the day – walking the dog, cleaning the house, even standing for eight hours or more on the job. You only have two, so make your feet feel their best. Start with these tips from the professionals:
1. Choose your shoes wisely: While some footwear is designed for comfort and stability, let's face it – a good deal of footwear is purely for show. Therefore, be smart with whatever type of shoe you choose. Flip-flops, for example, are a summertime favorite, but the experts at the American Podiatric Medical Association (APMA) have a few recommendations. Try not to wear flip-flops while walking long distances, since they lack substantial shock absorption and arch support. For women, the APMA discourages excessive use of high heels, since they can lead to a number of foot and ankle injuries. If you start feeling pain in the ball of your foot, those stilettos may be too high; try switching to heels less than two inches in height.
Athletes also need to make sure their shoes fit well. Basketball players should have sneakers with high ankle construction that supports frequent changes in direction while tennis players' shoes need lower side-to-side support to help with specific lateral movements.
2. Stop a sprained ankle in its tracks: The American Academy of Family Practice estimates that one million people in the U.S. seek medical attention for an acute ankle injury every year. The American Academy of Podiatric Sports Medicine(AAPSM)notes that ankle sprains are the most common of all athletic injuries. Violent twisting of the ankle can happen in all different scenarios, from football games to falling off a sidewalk curb. The AAPSM recommends rest, ice, compression and elevation (RICE) after the initial injury, followed by four to 12 weeks of gentle rehabilitation and strength building exercises. Most important, keep your feet away from any potential major stress such as athletics, if you want a full, quick recovery.
3. Massage, stretch and repeat: Whether you already have foot problems or not, regular stretching and massaging will greatly improve each foot's ability to function properly and strongly. At the end of a long day, sit on your living room floor and place a small towel around the ball of your foot. Gently pull back until you feel the muscles start to stretch; make this an every day habit and you'll probably be able to say goodbye to heel pain according to the APMA. Don't want to pay big bucks for a professional massage? Give yourself the five-star treatment by putting a golf ball under your foot and rolling it back and forth while applying mild pressure. It'll feel good immediately and in the long run.
A good first step toward better foot health might involve a fieldtrip to your closet; throw out any old shoes that have lost their structure and cushioning, and eventually replace them with those that offer plenty of shock absorption and arch support. If you have a history of foot pain or problems, consider buying footwear marked with the APMA Seal of Acceptance or similar certification since they are scientifically designed for comfort and protection.